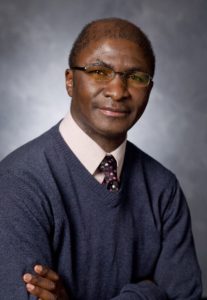 David Okech
Associate Professor
Director, MSW Program
Ph.D., University of Kansas
MSW, University of New Hampshire
B.A., University of Nairobi
David Okech conducts research on human trafficking – the exploitation of men, women, and children for the purposes of labor and sex. He focuses on designing evidence-based interventions and policies to inform programs and policies that will improve psycho-social and physical health, increase economic empowerment and put survivors on a path to recovery, stability and social integration. He has published on human trafficking and PTSD, financial capability and trafficking, as well as conducted a review of social work literature on the subject. Dr. Okech serves on the International Steering Group of the Antislavery Knowledge Network at the University of Liverpool in the United Kingdom and is also a founding member of the African Programming and Research Initiative to End Slavery (APRIES).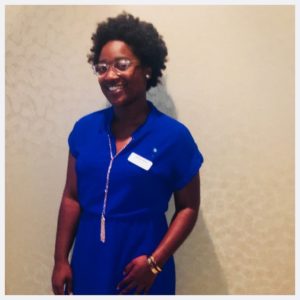 Tamara Glover is the Program Manager/ Forensic Interviewer at the Georgia Center for Child Advocacy's DeKalb location. Becoming well-versed in psychology and introductory concepts of law, she earned a Bachelors of Science in Psychology from Georgia Institute of Technology. She then continued her education by completing her Master's degree in Forensic Psychology from Marymount University.  It was there, over the course of internship, that she became aware of her passion for serving victimized youth. Upon graduation, she assisted children receiving psychiatric residential treatment within a facility located in Metro- Atlanta.  Tamara Glover has continued to be an advocate for children, she has been forensically interviewing for over 5 years and has helped over 800 children find their voice.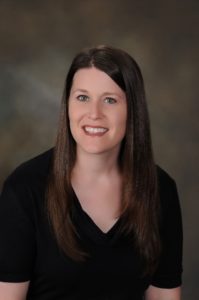 Rebecca Ferguson,
The Light House Children's Advocacy Center
Rebecca Ferguson, MS, LMFT received a Master's of Science in Marriage and Family Therapy from Valdosta State University in 2006 and Bachelors of Science in Psychology from Georgia Southwestern State University in 2004. She has been a Licensed Marriage and Family Therapist in Georgia since 2009 and became an Approved Supervisor for the American Association of Marriage and Family Therapy (AAMFT) in 2017.  Ms. Ferguson is certified in Trauma-Focused Cognitive Behavioral Therapy (TF-CBT) and fully trained in Eye Movement Desensitization and Reprocessing (EMDR). Ms. Ferguson is a Clinical Member in good standing of the AAMFT.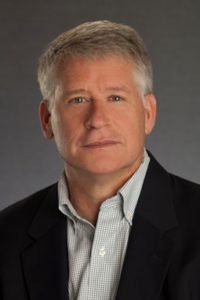 Jeff Ashby, PhD, ABPP, RPT-S
Professor, Counseling Psychology
Co-Director, Center for the Study of Stress, Trauma, and Resilience
Georgia State University
Dr. Jeff Ashby is a Professor in the Department of Counseling and Psychological Services at Georgia State University.  He is the Co-Director of Georgia State's Center for the Study of Stress, Trauma, and Resilience, a licensed psychologist, a Diplomate of the American Board of Professional Psychology, and a Registered Play Therapist – Supervisor.  Dr. Ashby has taught ethics at the graduate level for over 20 years and has served as Chair of the Ethics Committee of the International Association of Play Therapy and as an ethics content expert with the State of Georgia Psychology board.  He has made over 150 presentations at professional conferences and authored/co-authored more than 90 articles in refereed journals, numerous book chapters, and two books.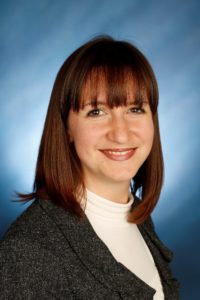 Liza Murray, MD
Arkansas Children's Hospital
Team for Children at Risk
 Murray, Liza Liza Murray, M.D., is a Child Abuse Pediatrician and a recent addition to the child abuse team at Arkansas Children's Hospital. She is an Arkansas native, growing up in Little Rock, graduating from UAMS medical school, completing her pediatric residency at Arkansas Children's Hospital in 2011 and working one year as a chief resident and hospitalist at Arkansas Children's Hospital.  Liza completed a 3-year fellowship in Child Abuse Pediatrics at Children's Mercy Hospital in Kansas City in August of 2018 and is excited to join the multidisciplinary team back in her home state.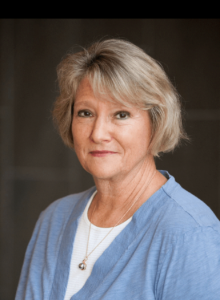 Cory Jewell Jensen, M.S., CCSOT
CBI Consulting, Inc.
Training and Consultation Services for Child Abuse Prevention,
Sex Offender Behavior and Risk Management
Currently the senior trainer for CBI Consulting, Cory Jewell Jensen, M.S. recently retired  from her position as Co-Director of the Center for Behavioral Intervention where she worked with adult sex offenders and their families for 34 years.  In addition to her clinical work, Ms. Jensen has provided training and/or consultation to The National Center for the Prosecution of Child Abuse, The National Child Advocacy Center, United States Navy, The National Crime Victims Association, The Mark Mc Gwire Foundation for Children, US Marshall's Office, NYPD Special Victims Unit and a number of law enforcement, child advocacy and Faith based organizations.  Ms. Jensen served as Executive Director for the Association for the Treatment of Sexual Abusers, chaired two of ATSA's International Research and Treatment Conferences and served as President of Oregon's Chapter of ATSA.  She also chaired the Offender Management Committee attached to the Oregon Attorney General's Sexual Assault Task Force, has been an instructor for Portland State University's Child Welfare Training Institute for the past 15 years and has also provided training for Oregon's police academy.  Ms. Jensen has been the recipient of Oregon's "Commercial Crime Prevention Award," the "Champions for Children Award,"  the OATSA "Significant Achievement Award," the Nunnenkamp "Award of Excellence," and the Jan Hindman Memorial Award.  She has published a number of articles related to sex offender treatment, risk management and child abuse prevention, testified as an expert witness in local and federal courts and been a featured guest on radio talk shows and the Oprah Winfrey Show.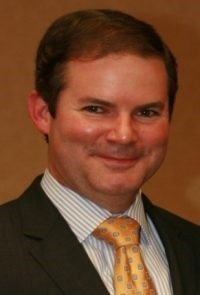 Presenter: Charles "Chuck" P. Boring is an Assistant District Attorney supervising the Cobb Judicial Circuit (Cobb County, GA) D.A. Office's Special Victims Unit. He is a graduate of Georgia State University College of Law.  He has been a prosecutor since 2000 and has prosecuted a variety of crimes including murder, rape, physical and sexual abuse of children, internet facilitated crimes against children, and human trafficking cases.   He has successfully tried several high-profile cases, including State v. Jade Sanders and Lamonte Thomas, a child homicide case in which the defendants starved their newborn son to death.  The case garnered national attention due to the Defendants' unsuccessful attempt to blame the child's death on feeding the child a vegan diet.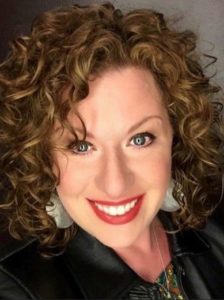 Melissa Brunner is a Regional Training Specialist at SRCAC where she utilizes her over 20 years of experience as a former CAC Executive Director, trainer, speaker, and provider of direct services to deliver training and technical assistance to CACs, MDTs, and state chapters within the 16-state Southeast region. Prior to joining SRCAC, Melissa spent 7 years collectively as an Executive Director of the state chapter and a CAC in Arkansas. At the Children's Advocacy Centers of Arkansas, Melissa oversaw all aspects of children's advocacy programming at the local and state levels as the CAC's first state chapter director; assisted in increasing service offerings throughout the state, growing the number of CACs in Arkansas from 7 to 13 centers. During this time, she led the successful effort to attain NCA Chapter Accreditation. While as the Executive Director at Children's Safety Center in Springdale, Arkansas, Melissa also served as the Chapter Board President before accepting the state chapter executive director position. Prior to joining the CAC movement, she provided direct services to clients with CPS in Colorado and was the Investigations Supervisor with CPS in Arkansas where she oversaw the Child Maltreatment Investigations Unit, which involved reviewing case work, providing referrals, and collaborating with other child welfare professionals to improve outcomes for victims. Melissa spent over four years as a Treatment Coordinator for a county mental health center and a Sexual Assault Program Coordinator for a rape and domestic violence agency in Washington State.
Melissa has a BA degree in Psychology from Chapman University of Orange, California and is a certified trainer in Cognitive Dynamics of Personality, Interaction Styles and Essential Motivators through InterStrength.  Melissa is also an MBTI Certified Practitioner.