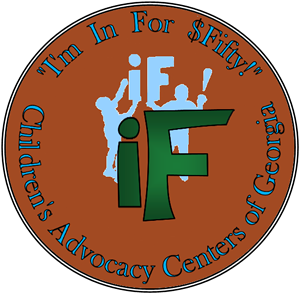 You, your friends, your family, your faith organization, your clubs and civic organizations, and your employers can help children of Georgia who right now are in profound need. With your gift to CAC Georgia, you're telling us: "I'm in for Fifty!" (or whatever gift you can provide) for children who have suffered abuse and maltreatment.. Your gift to CAC Georgia will support the services CAC Georgia provides to our 49 local children's advocacy centers throughout this great state. Your gift will help ensure that our children who are abused in Georgia will have the opportunity to access the CAC in their communities, so that they can benefit from the amazing, caring, healing, and compassionate services that our CACs provide.
At CAC Georgia, we are so grateful to those who stand with us. Our promise to you is that your generous donation in any amount will help make a difference to the children who suffer abuse in our state.

you're In Fo $Fifty,  we can better provide member support to our amazing 49 children's advocacy centers that are located throughout the great state of Georgia.

you're In For $Fifty, we can continue to provide superior training to our 49 CACs from the top thought leaders in the field (including so many who are right here in Georgia).

you're In For $Fifty, the technical assistance we provide to our 49 CACs will be highly technical!

you're In For $Fifty, then CAC Georgia will be able to provide tremendous professional and community education opportunities, like our annual "One Team" child abuse prevention conference, held every November.

you're In For $Fifty, then CAC Georgia will be your honored partner to help enrich the lives of children who suffer abuse in Georgia. Thank you from the bottom of our hearts!
Make your donation to Children's Advocacy Centers of Georgia in one of two ways, online or by mailing your check with the CACGA donation form.