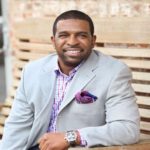 Kevin McNeil is a Special Victims Detective, author, educator, and motivational speaker.  Throughout his 18-year career as a law enforcement officer and detective, Kevin has testified in court as an expert witness and is responsible for putting together numerous cases for prosecution against sex offenders.  Kevin has investigated and solved several high profile media cases; including six serial rape cases and five child murder cases.
His years of experience as a police officer and detective allow him to consult with local law enforcement agencies as well as Child Advocacy Centers, hospitals, school systems and state family protective service agencies. He helps agencies measure the effects of abuse, and educates the general public on how to recognize and report abuse to the proper authorities.  Kevin's passion is to educate the world on the effects of abuse and how it can be eradicated from our culture.
Detective Kevin McNeil presents a motivating and compelling presentation on why helping abuse victims is more than just a job; it is a calling.  This presentation will highlight why your job is more than just something you get paid to do but is a unique call to service.  Part of Kevin's presentation highlights the importance of providing a space for victims to talk about their abuse in a friendly supportive environment such as the child advocacy center. He demonstrates how neuroscience confirms that talking about abuse in a supportive environment increases the chances of victims recovering from their abuse; enabling them to live healthy lives. You will see how forensic interviews are changing lives and giving parents reassurance they are not alone.
Kevin will emphasize why this effort to end abuse must be done as a team. Kevin shows why you are a part of a unique team that has been summoned to rid the earth of its greatest enemy; abuse.  You will learn why caring for abuse victims is a calling. After attending Kevin's presentation, you will be assured that you have been officially summoned to join the world's greatest team; those who serve abuse victims. Consider yourself served.
Details of the 2017 "One Team" Conference:
Date:                   October 26th and 27th, 2017
Time:                  Thursday 8:00 am – 4:30 pm / Friday 8:00 am – Noon
Venue:                Coastal Georgia Center – 305 Fahm St. Savannah, GA 31401  
Price:                  Early Registration $135, Regular Registration $150, Student Registration $35
 *CEU, CLE, POST, CME and Nursing Credits will be offered